12 year anniversary of your passing
We Love and miss YOU more than ever!!
12/12/2016

To ALL Vistors, Friends & Family: Please use the right side panel to light a "Memorial Candle", to let us know you were thinking of us/Mike today.
Your spirit lives on in our hearts, memories and ...... the cat (Mike I know that's you...J/K LOL)
We Celebrate Michael's Life
Today, Tomorrow,
and Always
Michael David Hall, was born in Wisconsin on March 13, 1990 and passed away on December 12, 2004 at UW-Children's Hospital Madison, WI, at the age of 14.
It has been so very hard to talk about Mike's death in an online
forum such as this. I am still at a loss for words to explain why this happened to Mike. He was so full of life, a good kid, he enjoyed spending time with his family and friends, a freshman in high school just starting to make plans for his future.

Mike was taken to the hospital Dec 7, 2004 after trying the choking game at home alone (something he heard some kids talking about at school). The whole idea of kids doing this, or anyone for that matter is--DANGEROUS--in our case--DEADLY--!!!.....I came home from work that day and found Mike in his room--I couldn't tell if he was breathing. I couldn't tell if he had a pulse. His color didn't look good. I called 911, tried CPR....The rescue squad arrived immediately. The EMT's were able to revive Mike's body. He was taken by ambulance to our local hospital and the same night transfered to UW-Children's hospital in Madison, WI. Due to lack of oxygen to his brain, he never regained consciousness.
For five days we had 13 family members from out-of-state staying with us at the hospital (what a great support) while we held out hope that Mike would recover. How could he not recover? We weren't ready to let go...all the prayers in the world could not bring Mike back to us....and after taking him off of the ventilator.
Mike passed away on Dec 12, 2004.

Never to be forgotten.
Our Precious Son.
STOP THE CHOKING GAME....NOW!!!


We were able to donate his corneas, both kidneys, his liver and pancreas.
We met one of his organ recipients. She is alive today because she received Mike's liver, and a kidney, and is forever grateful for her second chance at life. We love you Mary!!!
The song playing is "Second Chance", by Hunter Brucks
Permission was granted by Hunter Brucks to use "his song" on this site. Thank you Hunter!!! - for more information about this song click on the link above.


Our Hero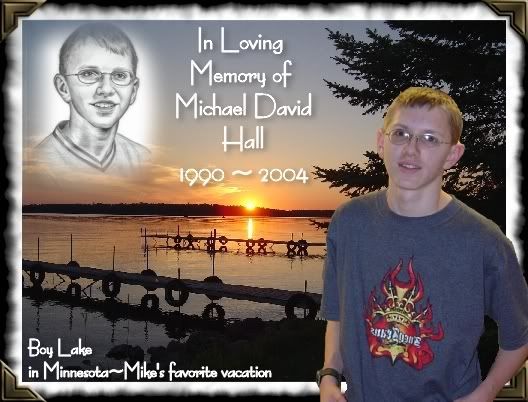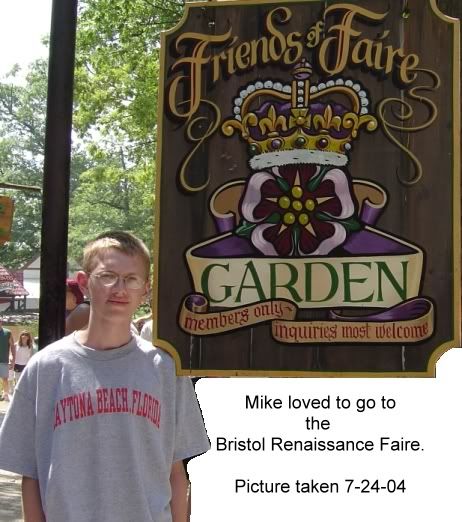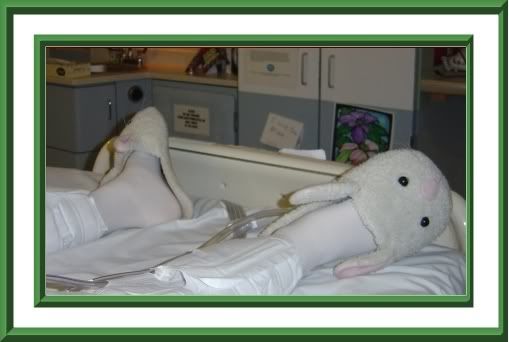 Mike wearing mom's bunny slippers at the hospital...
(he didn't know I put them on him)




Memories

If we could have a lifetime wish
A dream that would come true,
We'd pray to God with all our hearts
For yesterday and you.
A thousand words can't bring you
back
We know because we've tried...
Neither will a thousand tears
We know because we've cried...
You left behind our broken hearts
And happy memories too...
But we never wanted memories
We only wanted you.

author unknown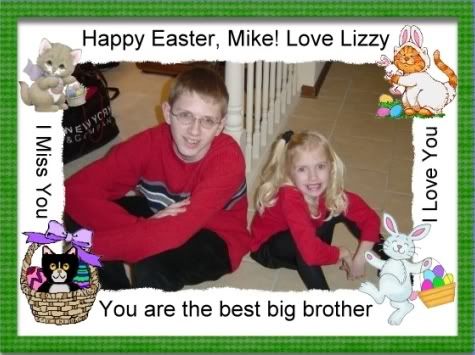 Mike's little sister, Lizzy, was 6 yrs old when Mike passed away.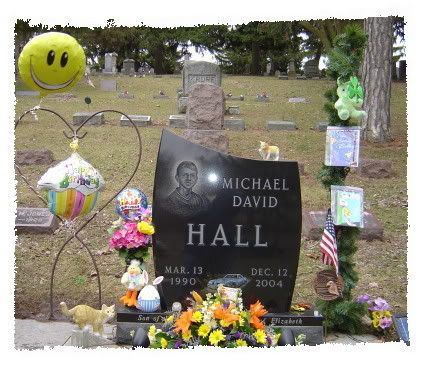 Mike's 16th Birthday at the Cemetery 2006
Written March 2006 for the UW Children's Hospital Program to: Remember, Honor and Celbrate children who have died
This was our first full year without Mike. We have experienced many family "firsts" without him and boy we couldn't have imagined in a million years how hard this journey was going to be and how it was going to affect each of us in a different way. Each day becomes a challenge in emotional survival. While the grieving process has seemed to have gotten a little easier for some, there is still an emptiness, a sense of loss that will always be there. We keep ourselves busy and try to find positive ways to channel our feelings, sometimes we give in to the sadness that would take over our lives if we let it. We get out the pictures and videos, have a good cry and then continue on with the daily routine...and the healing continues.

In addition to sharing our thoughts and feelings ... we would like to share a story about something that happened after last years memorial program.
The theme for last year's program was dragonflies. Two coincidences happened that day: Mike's sister Lizzy wore a shirt with a dragonfly on it and his aunt Terri wore a crystal dragonfly pin that she owned for seven years and had never worn before. We weren't aware of the theme before attending so in hindsight this all seems just a little eerie in connection with the following story.

Dragonflies have never had any significant meaning to me. I've always thought they looked like little helicopters, but other than that, no big deal. Well that was until several days after we attended the memorial program. Lizzy (Mike's little sister-then 6 yrs) and I were on our way home from daycare and decided to drive through the cemetery to say "hi" to Mike. This was going to be just a quick hello from the car and then head home. As we were talking to Mike from the car, I had this sudden feeling that I was supposed to get out of the car and walk to the grave site. As we were walking from the car, two HUGE (really big) dragonflies came out of no where and were flying around us. I watched in amazement at how big they were. Even the lakes in Minnesota don't produce dragonflies that big. They kept circling us the whole time we were there. I have never seen a dragonfly that big. Right away I knew these were special dragonflies. It had been an exceptionally warm week in April but it seemed too early in the year for them to be out. After that it wasn't until almost June before we started seeing the "regular" size dragonflies. I'm sure this was a sign from Mike letting us know that he was ok and he was watching over us. Now whenever we see a dragonfly, to us, it is Mike. This made our vacation at the lake in Minnesota more bearable without him. He wasn't there to drive us around the lake in the pontoon boat, but he was everywhere flying around or landing on our fishing poles as a reminder that his spirit lives on.

Mike's memory and spirit will live on in our hearts forever. We continue to keep his memory alive for others as well. We have set up a memorial scholarship in his name at the high school. We also continue to collect and recycle aluminum cans and use the money to make a donation to Ronald McDonald House in his name. This was our mission that helped get us through this first year after his death. It's our way of coping with the loss of the best son anyone could have and a way to give something back to others in need. Happy 16th birthday Mike!!! March 13th. We remember, honor, and celebrate your precious life today and always.... We love you!!!

Love,
Mom, Dad & Lizzy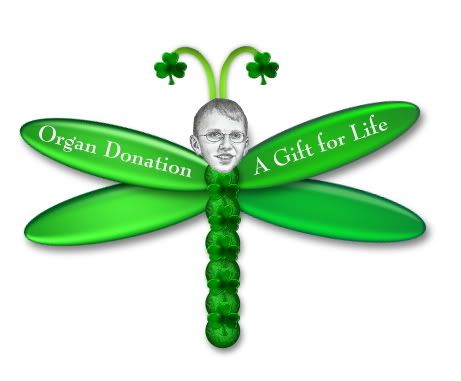 At the cemetery- Mike's 15th Birthday 3/13/2005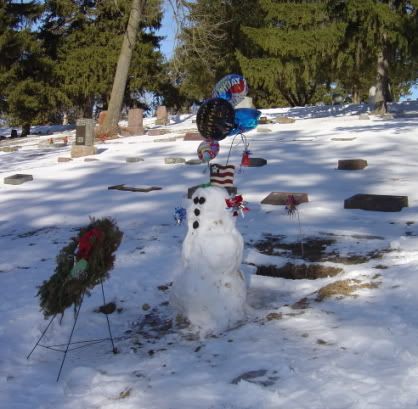 The monument company completed Mike's headstone in time for his birthday 3/13/05, but it was too early in the season to place it at the cemetery due to the snow on the hill there, so they brought it to our house and we had it in our driveway for 2 months. I really missed seeing it before work every morning....when they did actually place it at the cemetery.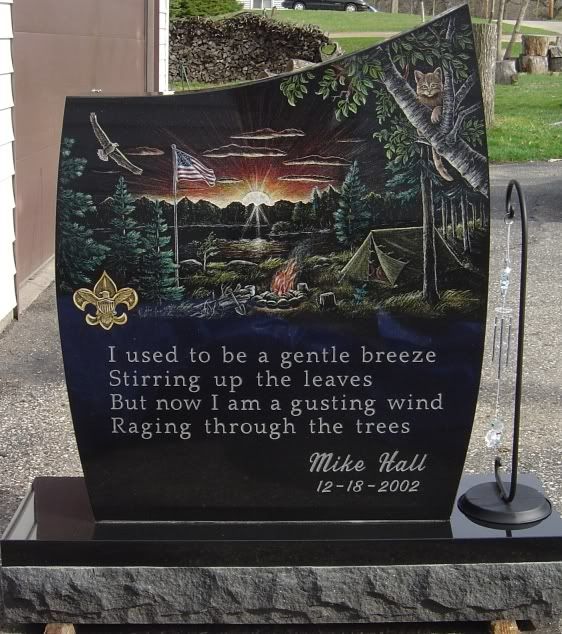 Mike's Memorial Tree planted at the High School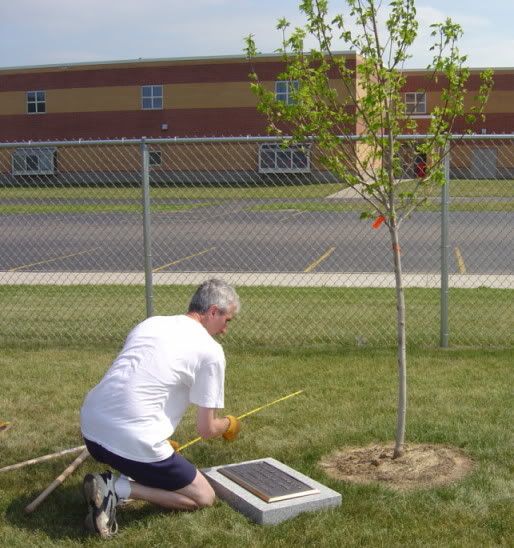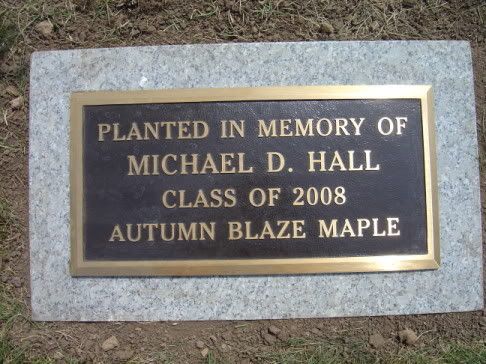 Scout Court of Honor - Sept 2004


Mike wanted so much to get his driver's license so he could take shop class to fix up his dad's '78 Firebird that would soon become his. To anyone that knew him, this was his passion.

1998 ~ Jada ~ 2006
Mike's little sister Lizzy lost her friend Jada in a car
accident January 27, 2006. Please visit her site
and light a candle In Memory of Jada Long
http://jada-long.memory-of.com